TECH-GUIDE: AIRCRAFT WEATHERING
USING TAMIYA PANEL LINE ACCENT COLORS
Tamiya offers a new range of ready-to-use colour-washes that allow the quick and easy enhancement of recessed details. Jean-Luc Formery describes how it's done…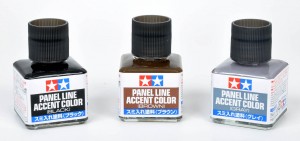 Three colours are currently available: Black 87131 for general purpose, Brown 87132 for rust on military vehicles and in car body panel boundaries in bright colours and Grey 87133 for light colours (aircraft, cars, motorcycles). The colours can be mixed to vary the effects.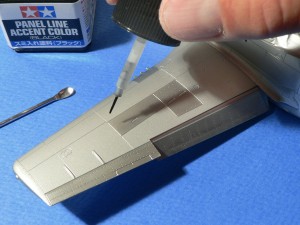 Before applying the Accent Color, protect the surfaces of the model with a gloss acrylic varnish or Klear. This will allow the liquid to flow easily by capillary action. Do not use directly on enamel paint! After thoroughly mixing the product (strongly shaking the bottle or using a mixer), you can start the application with the brush built into the cap.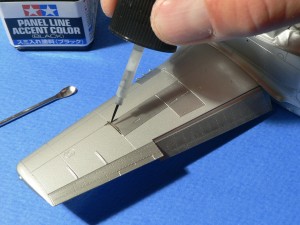 The very thin liquid diffuses into the panel joints and recessed detail. Don't apply too much, it is better to proceed slowly.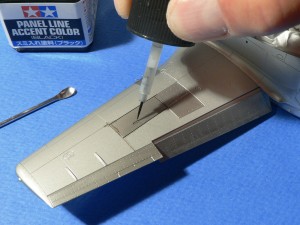 If the surface is gloss, the liquid will spread almost exclusively into the hollows and not stay on the surrounding areas. For now, no need to worry about spills, just make sure all areas are treated.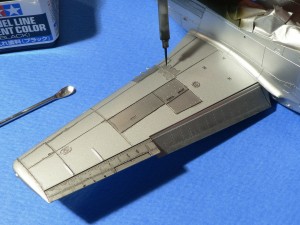 The Accent Colors can also enhance raised detail such as rivets etc.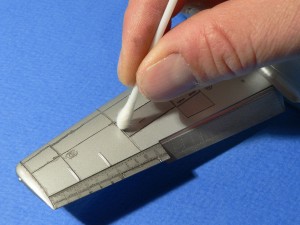 After drying, the excess can be gently wiped off with a cotton swab soaked in X-20 Enamel Thinner or white spirit as is the case here.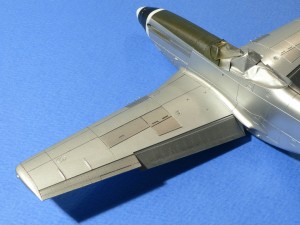 As we can see, it is possible to finish 'clean' if one proceeds methodically.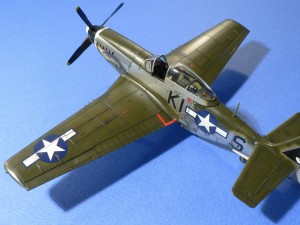 Of course, you can use the material on dark surfaces. By mixing the Accent Colors it is possible to vary the effects.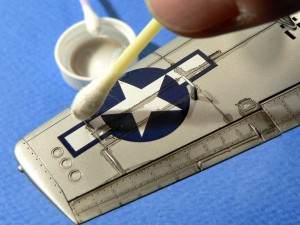 The application of Tamiya's Accent Colors over decals poses no particular problem, however, the modeller must verify that the solvent won't attack the markings. It is best to protect them with a gloss finish.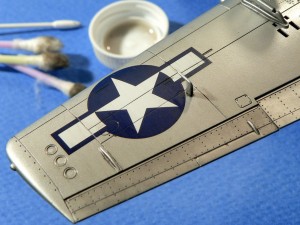 Again, the result is very convincing.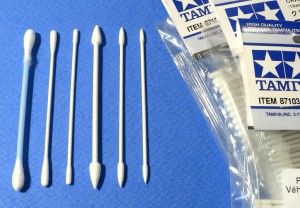 Tamiya offers a range of cotton Q-Tips that are much thinner than those usually found in the shops. Perfect for reaching every corner!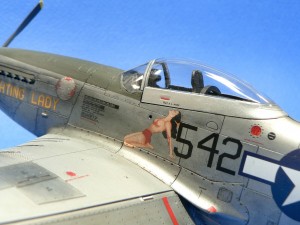 This close-up of the fuselage shows the effects achievable with Tamiya Accent Colors. It is possible to vary the surface effects to provide a more authentic-looking model.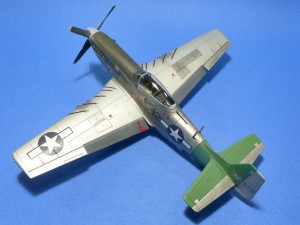 And that's it! Easy to use and effective, Tamiya Accent Colors are inexpensive. What more could you want?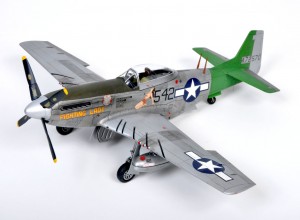 The model used in this demonstration is Tamiya's 1:48 P-51D Mustang. It bears the markings of Lt. Ralph S. Gardner, 457th Fighter Squadron, Iwo Jima, 1945. The decals are from the Kagero sheet 'Pacific Mustangs Part 1'. The model was slightly modified (addition of various antennas) to represent an long range escort fighter.